SPECIAL AWARDS- MOST ADMIRED TEAM OF THE DAY will be recognized each evening as each line will vote for their choice daily. Each member of the team selected will receive a ribbon to wear proudly the remainder of the week. On Evaluation Day, teams will vote for their MOST ADMIRED TEAM OF THE WEEK, which will receive an award and a ribbon for each member. Other awards include "Best Overall Technique," "Best Overall Precision," "Most Improved," "Spirit of ADTS."
The staff may select an ALL AMERICAN OFFICERS® OF THE DAY / WEEK for their excellent discipline, performance, and personal enthusiasm. Each officer will receive a ribbon, and the team of the week will receive an award for this special recognition.
The staff may select a GUSSIE NELL DAVIS OFFICERS OF THE DAY/WEEK for their improvement, unity , and hard work. Each officer will receive a ribbon, and the team of the week will receive an award for this special recognition. Officer groups will be awarded special recognition for Best Overall Choreography and Best Overall Technique.
Directors will each receive a special American Directors University certificate, documenting the classroom and activity hours spent at the camp that can count towards teacher in-service hours for many school districts.
Selected officer groups will be awarded GRAND CHAMPION OFFICERS, as well as the very top officer line chosen as ALL AMERICAN OFFICERS®. These groups are selected on outstanding discipline, personal enthusiasm and performance throughout the week. These awards will be special etched crystal awards to proudly display back home. Awards will also be given to outstanding Social Officer groups.
Officer Camp Individual Recognition
In each of our line camp dance classes, instructors will award a RED OUTSTANDING ACHIEVEMENT IN DANCE ribbon to students displaying outstanding dance technique, as well as quick learning skills. They may receive only one.
A TEAL OUTSTANDING ACHIEVEMENT ribbon may be awarded in some classes when the staff has taken special notice to attitude, enthusiasm or extra effort. They may receive more than one.
A PINK EXCEPTIONAL ACHIEVEMENT IN DANCE ribbon may be awarded to students who have already received a red ribbon. They may receive more than one.
Directors will be issued three ribbons to award to present a SPECIAL AWARD to a student who has given that extra effort at camp.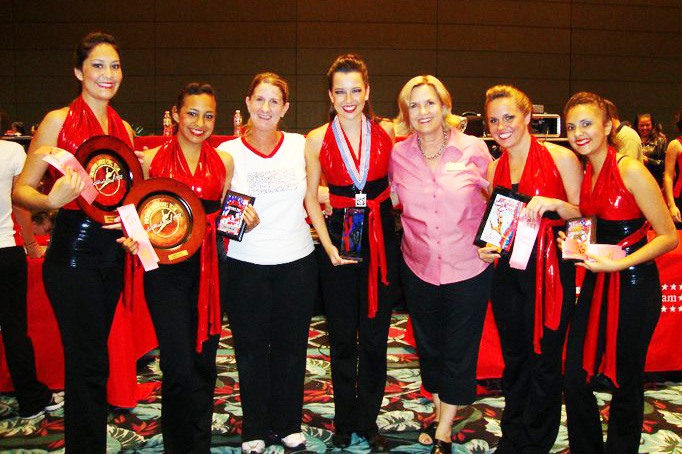 At the final awards ceremony, instructors will award an elite number of students a GOLD ALL AMERICAN DANCE COMPANY® ribbon and acrylic award for exceptionally talented dancers displaying outstanding technique. Also, a "Kick Off" will be held for any girl at camp to compete for MISS HIGH KICK. All finalists will receive a special GREEN ALL AMERICAN KICK COMPANY® ribbon. All Kick Company recipients will be invited to compete at the National Championship for "Happy Feet Miss American High Kick." Dancers receiving Gold or Green Ribbons will be invited to perform with the All American Dance/Drill Team on our special trips, including the Macy's Thanksgiving Day Parade™ and the Bowl Games.
Top young women will be nominated for the All American Dance/Drill Team®, All American Honorable Mention and Junior All American Drill Team at each camp. Auditions for these honor groups will be held the night before the final day of camp. Any girl that has received a white ribbon by audition time is eligible to try out with the Camp Dance, which will be taught the first day of camp. Recipients will be announced on the final day of camp at the Awards Ceremony and will receive a ribbon for their recognition. The camp routine is a standard routine taught at all of our officer camps in order to evaluate all girls on an equal basis at officer camp sites.
The OUTSTANDING PERFORMERS, chosen by the staff for their exceptional talent, effort, and leadership, will be announced at the Awards Ceremony.