Welcome to American Dance/Drill Team®. We are proud to be leading the dance/drill team industry for over fifty years by presenting quality dance education through summer camps, winter dance intensives, special events and competitions around the United States. It is our goal, through hiring the top dance educators in the country, and by constantly striving to meet the current needs of dance teams, to continue to present the most organized, fair and professional activities for young dancers today.
The American Dance/Drill Team® was originated in 1958 by Dr. Irving Dreibrodt and Gussie Nell Davis to provide a medium for professional instruction for dance/drill teams around the United States. Joyce E. Pennington, Pres. CEO and C.R. Pennington, Jr., V.P. & CFO, current owners of American Dance/Drill Team®, the company has continued the legacy of presenting the highest quality of camps, contests, and clinics available.

| | |
| --- | --- |
| Gussie Nell Davis, of Kilgore, Texas, was best known for creating a "first" for Texas and the Nation. In 1975, the Houston Contemporary Museum of Art honored her for creating a "living art form." A talented musician, Miss Davis was groomed to be a concert pianist, but upon entering the College of Industrial Arts (now Texas Woman's University) in Denton, Texas, she selected physical education as her career choice. She went on to earn a master of science degree from the University of Southern California. | |

In 1929, Miss Davis started the first dancing pep squad at Greenville High School in Greenville, Texas. Then in 1940 she was hired by Kilgore College to organize a group of girls to perform at the halftimes of college football games. The world famous Kilgore College Rangerettes were born as a result. During her 40 years as director of the 65 member Rangerette organization, the group traveled over a million miles representing the United States and Texas in South America, the Far East and other points on the globe. The Rangerettes have been featured at numerous football bowl games across the nation, on national television, in movies, and hundreds of magazine covers.
She was inducted into the TEXAS WOMAN'S HALL OF FAME; named Honorary Citizen of Fort Worth in 1965; the recipient of the International Citizen Citizenship Award in 1969; the Cotton Bowl Association 25th Anniversary Participation Award in 1974; received a State of Texas House of Representatives Certificate of Citation; a Distinguished Alumnae of Texas Woman's University in 1978; and a woman's dormitory at Kilgore College bears her name.

In 1996, Miss Davis was recognized by the Texas Dance/Drill Team Educators Assoc. as an outstanding contributor to the dance/drill team industry. At the 1996 Texas convention she was inducted in to Texas Dance Educators Association Hall of Fame.

In 1998, ADTS® established the Gussie Nell Davis Dance Classic competition at Kilgore College to benefit Rangerette Scholarships. Miss Davis was most definitely the "First Lady of Drill Team." On December 20, 1993, she died in her sleep in Kilgore, TX, and remains in the hearts of all drill team members whose lives she touched. (Learn more about Gussie Nell Davis on our Education Support page.)

| | |
| --- | --- |
| In 1956, Dr. Irving D. Dreibrodt came to Southern Methodist University, after being a high school band director in San Antonio, Texas for over ten years, to be the Director of the Mustang Band. He took charge of the program and turned the small band into one of the most prestigious programs in the country, earning the titles of "Show Band of the Southwest", "Best Dressed Band in the Land", and "99 Guys and a Doll". He had worked with Gussie Nell Davis, Director of the Kilgore College Rangerettes, on many Cotton Bowl parades and halftimes. | |
Dr. Dreibrodt had a great interest in high school drill teams and wrote his Masters thesis on drill teams, when it was still an unpopular subject with most high school band directors. Together, in 1958, Dr. Dreibrodt and Miss Davis collaborated to start the first drill team training camp in the United States on the SMU campus. That summer, drill teams came from all over the United States to AMERICAN DRILL TEAM and PEP SQUAD SCHOOL. For over fifty years, the company, now named American Dance/Drill Team®, has lead the nation and set the standards for the entire industry to follow.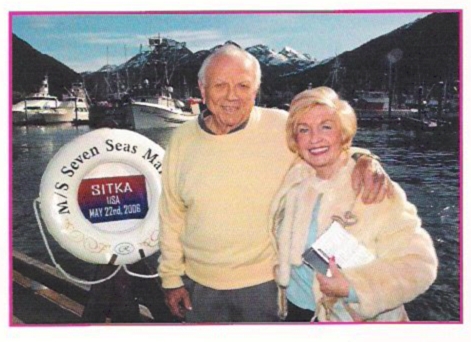 Dr. Dreibrodt continued to influence the drill team world by working with area drill team directors in 1979 to develop the first professional organization for directors, DANCE/DRILL TEAM DIRECTORS OF AMERICA. He was recognized by the TEXAS MUSIC/SPORTS BROADCASTERS HALL OF FAME in 1986 the year he retired as director of the MUSTANG BAND and was inducted into the TEXAS MUSIC EDUCATORS HALL OF FAME the summer of 1993.
In 1996, Dr. Dreibrodt was recognized by the Texas Dance Educators Association as an outstanding contributor to the dance/drill team industry. At the 1996 Texas convention he was inducted in to the TDEA Hall of Fame. Dr. Dreibrodt was born in 1920 and passed away in January, 2007. Dr. Dreibrodt played an active role in the dance/drill team world while serving as Chairman of the Board for American Dance/Drill Team®.
Joyce and CR Pennington are current owners of American Dance/Drill Team. In 1982, Joyce became Exec. Vice President, hired by Dr. Dreibrodt and Miss Davis. In 1984, the Penningtons bought majority stock in the company, and in 1994, purchased remaining stock to be sole owners. It is their goal to carry on the legacy that was started in 1958, by Dr. Dreibrodt and Miss Davis.

Today, Joyce Pennington is Pres. CEO, CR Pennington is Vice President, CFO, Lucinda Alexander is Director of Personnel and Contests, Barbara Schoepf is Accounts Manager, Brittany Dolotina is Director of Curriculum, Brad Pennington is Director of Sales Operations, and Doug Pennington is Director of Event Operations. The corporate headquarters is located in the historical village of Salado, Texas.

Watch the video commercial for American Dance online